These Mattresses Fit in a Cargo Van (Queen, King, Full Size)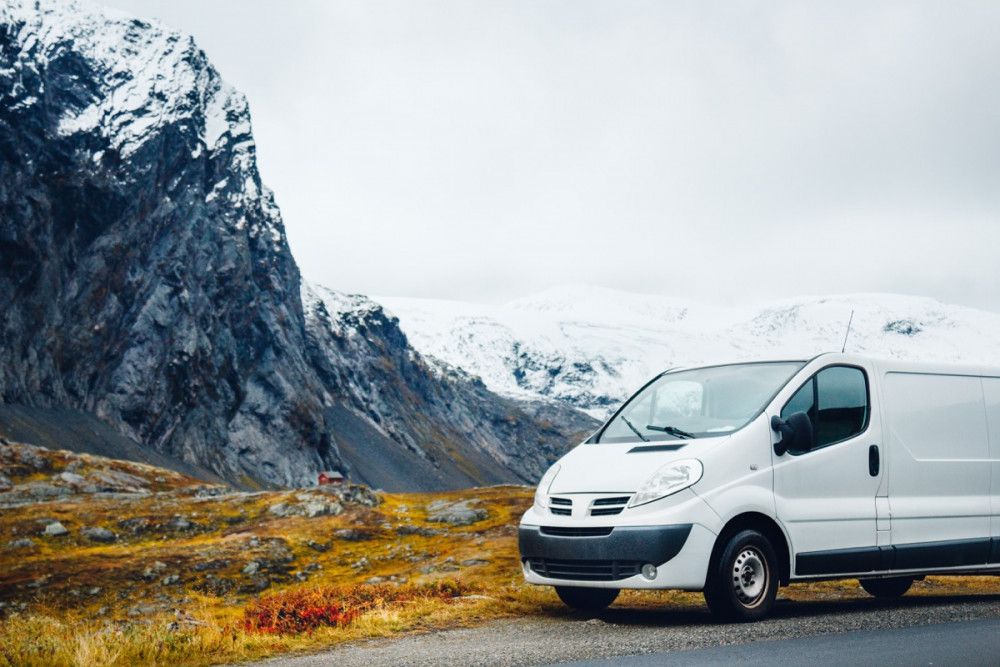 If you need to load a mattress in a cargo van, but are unsure if it will fit, you're in the right place. In this article, I'll tell you exactly what mattress sizes will fit which cargo vans.
What mattress sizes will fit in a cargo van?
King size mattress - only at an angle
Queen size mattress - probably flat, otherwise at an angle (provided wheel arches don't take up too much room)
Full size (double) - yes
Both mattresses and vans vary in size, but as a rule of thumb the above is correct most of the times. To learn the exact numbers, read on.
Average Size of Mattress and Cargo Vans
Most cargo vans have a cargo space length of 100" (short wheelbase) - 125" (medium wheelbase). The average width is 65-70" and the average height is 69" - 80" (high top).
In the US, mattress sizes are:
King: 76" x 80"
Queen: 60" x 80"
Full: 54" x 75"
Popular Vans vs. Mattresses
Most popular vans can easily fit most mattress sizes. Even short-wheelbase models can hold all types.
| Van | King | Queen | Full |
| --- | --- | --- | --- |
| Sprinter Van | At an angle | Yes | Yes |
| Ford Transit | At an angle | Yes | Yes |
| Fiat Ducato | At an angle | Yes | Yes |
If you want to know the exact interior dimensions of your cargo van, check out our database.
So let's dive a little deeper into the numbers.
Mattress Sizes
The answer varies because mattress sizes are different in different countries. The answers above are based on standard US sizes but if you are based elsewhere in the world you need to take the differences into account.
King-Size
The biggest of them all, a king-size mattress is almost square and in the US they measure 76" x 80". Elsewhere they can vary as follows:
US: 76" x 80"
UK: 60" x 78"
Australia: 72" x 80"
China: 72" x 83"
Japan: 67" x 77"
Europe: 63" x 79"
As you can see, the variation in size is quite significant. If you think about your standard Cargo van with a storage area of about 100" x 65", with the lowest version at 69" high, none of these king-size mattresses will be able to lie flat apart from those from the UK or Europe.
Provided the inner trim of the back of the van is as thin as possible, you should be able to lie these mattresses completely flat, making them suitable to sleep on. There would be very little room around the outside, so you couldn't have thick bedding tucked in or leave any space for storage.
In the US, though, there is no way a king-size mattress will lie flat in the back of a Cargo. You might be able to fit it in on its side in a high-top which has a maximum height of 80", depending on its internal features. If the longest side of the king-size mattress went along the floor of the van, you should have about 20" to play with.
The mattress is 80" and the shortest van floor, even in a short wheelbase, is about 100". That leaves the shorter side of the mattress at about 76" and a high-top has 80", so you should have about 4" between the top of the mattress and the roof of the van.
This is not taking into account any extra thickness in the van, such as if the van is lined or has any lighting in the roof that might add up to more than 4". You also need to know that most mattress manufacturers don't recommend transporting mattresses on their sides as it could irreversibly damage the springs.
Queen Size
Measuring somewhere between a king-size and a double, this mattress again varies in different countries. Some countries skip this size out completely. The standard size in the US is 60" x 80" but the variations are as follows:
US: 60" x 80"
UK: 48" x 80"
Australia: 60" x 80"
China: 72" x 74"
Japan: 61" x 71"
Europe: - no queen-size available
As you can see, most of these will fit flat in a Cargo van with dimensions of about 100" x 65" x 69". The standard US mattress should like flat, leaving about 20" free along the long side and 5" free on the shorter side.
Of course, this is about as tight as can be and, if the van has any variations in the slightest, you might struggle. But, if the dimensions of the van are not affected then it should just about lie flat without too much trouble.
This could be pretty handy if you are camping, with an awning attached to the side of the Cargo and your bed made up in the back of the van, but you won't be able to fit anything else in the van area. Five inches is hardly anything to play with, and if your van is lined or your wheel arches eat into the sides of the floor, you may find the mattress doesn't fit at all.
Depending on how high your wheel arches reach, you might be able to lift the mattress over the top if you place some boxes underneath. Be careful, though, as this won't do your mattress any favors and would make for a pretty uncomfortable bed. Adding a false floor would be a better solution.
The Chinese version is unlikely to fit in your van flat. At 72" x 74", you will fit one side along the floor but the other side is longer than the width of the van. As with the king-size, you could be able to transport this mattress if you put it on its side in a high-top at about 80" tall. Again, this could be damaging to the mattress so it wouldn't be recommended, although you might get away with it if you are only traveling a short distance.
Full Size
Full-size, known as double in some countries, also varies from place to place. It's the smallest of the three and should fit in your Cargo with no problems at all. Dimensions in different countries are as follows;
US: 54" x 75"
UK: 53" x 75"
Australia: 54" x 75"
China: 60" x 74"
Japan: 55" x 77"
Europe 55" x 79"
A standard short wheelbase Cargo at about 100" x 65" x 69" should have no trouble carrying any of these mattresses, either lying flat or on their sides.
How Big is a Cargo Van?
Obviously, there are different models out there and some have features that impact how much they can carry in the back. Some include passenger seats behind the driver's seat which reduce the amount they can carry significantly, although these seats can be folded down.
When carrying a mattress, however, folding down seats won't help you. You still won't be able to lie the mattress flat, and wedging it at an angle could seriously damage a sprung mattress. Other types of mattress, such as memory foam, might survive a short distance when loaded this way.
Length
The Cargo comes in three different models of varying lengths:
Short Wheelbase Cargo
The smallest in length, both internally and externally, the short wheelbase can carry more than you might expect. The standard dimensions are (on average) as follows:
Length: 126"
Width: 70"
Height: 69"
Medium Wheelbase
The Cargo van is also available in a slightly longer length with dimensions as follows:
Length: 144"
Width: 70"
Height: 69"
Long Wheelbase
The longest version of the Cargo van has the following dimensions (on average):
Length: 172"
Width: 70"
Height: 69"
As you can tell from the dimensions above, even the short wheelbase gives a good 20" to play with against the length of the largest mattresses you can buy. The only cause for concern is whether the van is wide or high enough to cope with the rest of the mattress.
Width
With a standard internal width of 70", it appears that all Cargo vans can carry a mattress up to queen-size even lying flat. However, this might not be true in all cases. Other factors can take significant inches off the internal width of your van.
Stuff That Will Get in the Way
Wheel arches
Wheel arches can cause a headache for anyone transporting a mattress. The width between wheel arches could be as little as 55" which suddenly means most queen-size mattresses will no longer fit. Full size (double) mattresses should still be fine unless you are transporting mattresses in China where a double mattress is 60" wide.
The front wheel arch might not impact on the cargo area, so you could be lucky if the distance between wheel arches is still wide enough to fit your mattress. The distance between the wheel arches is 55" and is the same in short, medium or long wheelbases. This could mean that most queen-sized mattresses will need to be angled in some way unless the floor of the van could be built up to above the wheel arches.
Interior Fittings
Interior fittings can be a help or a hindrance when it comes to carrying your mattress.
Lining: Some vans are fully lined which can take at least 3" off either side if they include plywood, carpet, and a layer of foam insulation.
Flooring: Different solutions can also take up space if thick wood is used beneath carpet or linoleum.
Lighting: Some van owners fit out the rear of their van with additional lighting that could be a permanent fixture. Large units could measure as much as 6" in height.
Speakers: If the van is used for leisure as well as transportation, luxuries such as music speakers could be fitted in either the sides or the roof of the van. Not only might these protrude into the van itself but they could also be easily damaged.
Personal Touches: Again, depending on what the van could be used for, additional permanent fixtures could be included such as camping equipment or even televisions.
The Best Solution
If you regularly carry mattresses, or if your van is used for camping, there are ways you could fit out the back of the van to make it fit for purpose.
A king-size will never lie flat, and can only be transported on its side if you have a high-top vehicle. This is best to be avoided.
A queen-size can be used, though there may be problems with wheel arches. These could be overcome by creating a false floor as follows:
Add a false floor to raise the mattress above the wheel arches
The ideal false floor should be completely level
The floor could rest on struts which would allow it to be removed when not in use
If permanent, use the area beneath the false floor for additional storage. Create access areas facing the doors of the van or by creating "trap-doors" in the middle of the floor.
A full-size mattress should fit between wheel arches, even in a short wheelbase, without any problems.
Did you find the answer to your specific question?
👍

9
👎

2
---
Are you looking for the dimensions of your van?