How to Find the Dimensions of Any Van Yourself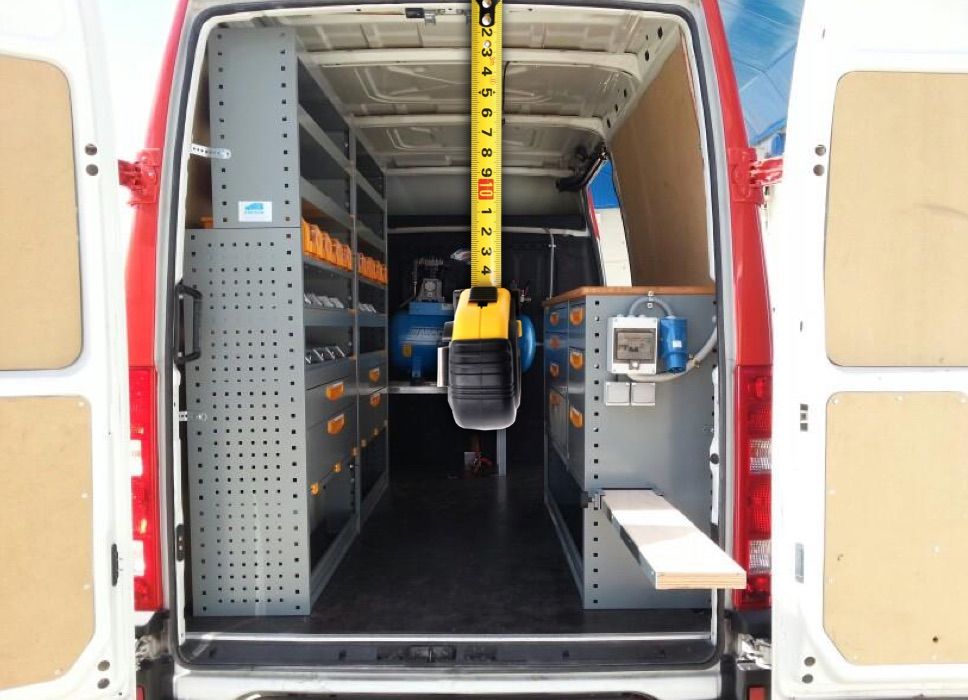 If you want to know how to find the dimensions of any van yourself, you're in the right place. In this post, I explain exactly how I get my data, so that you can do it yourself if needed.
If you've ever done a camper build yourself, or planned for a van racking, or wanted to buy a van to do any of these things for that matter, you must have noticed how difficult it is to find the dimension for say the width of the load area. Or the exact height of the door. That's exactly why I've started VanDimensions.
At first, to help myself out, ordering and storing all these measurements (I was constantly looking up the same vans again and again), and later on I figured I could help others out as well.
So here we are. I've started a website just about the dimensions of vans. But how do I get my information? And how can you get yours? It's simple. If you don't want to read the entire post, that's fine. It boils down to this:
How to find the dimensions of any van:
Check out the manufacturers website - find the brochure for your model and decipher the table
Use the conversion manual for your van
Check out the local dealers' website
Use Google Images to find old dealers' line drawings and floor plans
Check a professional conversion company
If it's an old model, get in touch with owners and owners clubs and ask them
Go check one out that's for sale and measure it
Use VanDimension.com
I'll explain each step briefly below.
1. With newer models, check out the manufacturers website
If its a newer model (no older than 5 years), I always start out with this one. The most recent models are always featured on the manufacturers website. And the manufacturers specifications are ALWAYS the most detailed.
On the manufacturers website, simply navigate to your model, and request a brochure. Most of the time you can just download a PDF with all details on the vehicle.
2. Use the conversion manual
Sometimes there's no brochure available. Or it lacks certain information: the manufacturer doesn't specify the interior width for example - I'm always surprised by this.
In that case you should look for the conversion manual, which is a > 100 pages guide for professionals that which to rack out their van, or professional camper builders.
This manual is most of the times very concise and detailed. But it's, again, only available for newer models, and also just for cargo and compact panel vans.
This method doesn't always work
The problem is, that when a new model arrives, the manufacturer removes all old models from their website. It's as if this (let's say) 2006 model has never existed.
I think that this is the reason most car review websites don't offer the dimensions of vans of over 10 years. The information isn't readily available.
But this isn't the end of the line for us. There's plenty of other ways to get what you want. So what do I use?
Check out Wikipedia
This is more of an extra step if you're dealing with an older model. Wikipedia isn't a great source for dimensions. Though I always do this to double check the car I'm researching; specifically I want to know what the model number and generation are.
Why is this important? Most manufacturers use the same dimensions throughout the entire generation.
Manufacturers are more keen on changing the car cosmetically than changing the dimensions. Which makes sense, since changing the dimensions means you need to reconfigure your entire production process. While changing out a grille is just replacing one plastic bit with another.
This means that some models do look different on the outside, but in reality use the same measurements for over a decade.
This is true for all the major vans, from the ProMaster, Sprinter, to the Transit. They all had the same dimensions for roughly the last 5-10 years.
So make sure to check that before moving on to other options. Sometimes a new look has been released, accompanied by a new brochure, but the dimensions still apply to the older model.
3. Check out the local dealers' website
So after you've verified the information isn't available at the manufacturer, you browse to the local dealers' website.
It struck me that most of these local companies sell older models as well, and sometimes they provide detailed information. Be sure you have the right model year though.
4. Use Google Images
If the vehicle is really old, say 20+ years, the above methods won't work. Dealers and manufacturers don't make any money on cars that old, so they won't provide any details on them.
For older cars, I do a quick search on Google Images. In some cases, you'll discover old schematics and line drawings, or even floor plans from a dealer. For the Mercedes 407D and 508D for example, I've found these plans: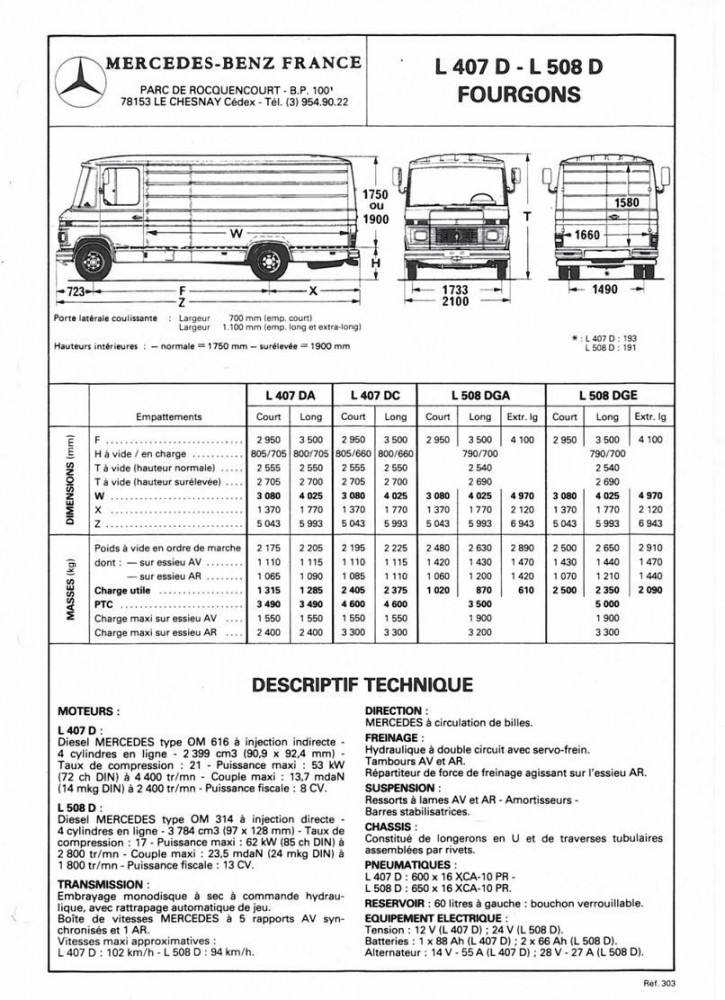 You do need to work out the dimensions though, as they aren't always neatly ordered. It's a bit of a puzzle. But who doesn't like a challenge every now and then?
5. Check a professional camper conversion company
This one's a long shot, but some professional camper converters upload the most used van models to their website. Worth to check it out.
6. Ask owners clubs and professionals
What to do if all of the above methods don't work, and you simply can't find the specs of your van?
No worries. Most classic models have owners clubs, and most of these clubs have forums. On the forum you'll find a lot of enthusiastic and helpful people that actually own the car.
If you ask them nicely, you'll always find someone willing to help you out and measure his/her vehicle.
7. Check one out that's for sale
This is really a great way to get any dimensions.
If there's one for sale in the neighborhood, just ask if you can come by and measure it.
Most people have no trouble with helping someone out. But keep it honest: don't mislead them into making them believe you're gonna buy it, unless you're actually interested.
8. Use VanDimension.com
While I was recollecting my process for you, I almost entirely forgot to add this one.
But this is probably the easiest way to find your van. If it's available in our database, you get the full summary. I find all my dimensions using the method I've just laid out for you.
If it's not, and you've researched your own van, please help your fellow vanners out. Read on.
What to do if you've found a van that isn't available online?
Sometimes the information just isn't out there on the internet. In that case it would be great to get it ON THE INTERNET as quickly as possible. That's what I did with all the vans I've researched, and then some.
So please, if you're up for it, and you've found a van that isn't available on the web, please send me an email. I'll try my best to add it to the database, and make it available for generations of camper converters or van rackers to come.
Did you find the answer to your specific question?
👍

5
👎

4
---
Are you looking for the dimensions of your van?